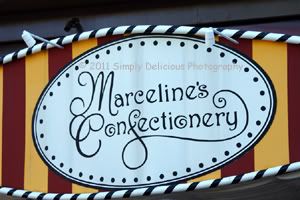 I was recently at Downtown Disney to take random photos of stuff. I usually don't buy food from any of the food places and vendors while there because I have no interest.
This time, I wanted something sweet and I found Marceline's Confectionery who also had cupcakes! I had wanted cupcakes for awhile, but could never find the motivation to go to a cupcake store.
The customer service was good and friendly. This place is a bit on the pricier side compared to other cupcakes stores located in regular shopping centers, after all, this place is located in Downtown Disney. Other than cupcakes, the store also had caramel apples, choclate covered items (strawberries, and rice krispies treats), cookies, truffles and lots of other sweet treats. Their baking area is also at the store front, so you can watch them make fresh cupcakes, cookies and chocolates.
I got the lemon cupcake, decorated with a white chocolate Mickey Mouse and rainbow sprinkles. At first, I was a bit worried that it would be loaded with sugar, but it definitely wasn't at all. It had lots of flavor and was very moist.