I've seen the Grand Opening sign for Pasta Joe's before from visiting Asia Buffet located in the same parking lot. I came in here at a different time before dining in for a different reason, and I was immediately drawn on the cleanliness and modern decor, albeit small. I finally came and dined in with some people. It wasn't that busy for a Saturday evening, but that meant the space was roomier and this place was also still new. We got served by sexy Wade who was helpful, friendly, infomative and funny. This was also the first time that we had a restuarant ask for feedback to improve wherever it was needed which was actually nice.
We ordered two Italian Sodas, one mango and one strawberry. We liked both flavors and the drink wasn't overpowered by heavy carbonation or sugar. We also ordered the Fried Calamari with the Marinera Sauce which tasted fresh. The cream of corn soup was complimentary and that was also very good.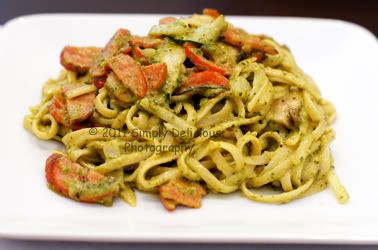 We also ordered the Italian Sausage Spaghetti in Pesto Sauce (image on right) and Baked Bacon Penne in Alfredo Sauce (image below) after seeing a few other yelpers ordering them. Both tasted very delicious, and I usually don't like pasta dishes at restuarants!
All the dishes were light, fresh - not canned or frozen - and filled you up without making you feel fat and sleepy. The prices are pretty reasonable and the portions were perfect, but you also get soup with your meal. I like the fact that the tv was on the Food Network channel. We'd come back and we'd recommend this place to others.
Ask for Wade, even if he's not working!