I recently attended the Buick Discovery Tour event which was sponsored by Buick and Food & Wine and it was hosted at the
St. Regis Monarch Resort
in Dana Point, CA. The were several vendors in attendance, such as Buick, Pastry Chef
Ben Roche
, Chef
Josiah Citrin
, wine aficionado
Michael Green
and Celebrity Chef
Ming Tsai
. For foodies or food fans, the Buick Discovery Tour is the event to visit where you get to learn and hear from many chefs while learning about Buick and its vehicles. This is a culinary rock concert meets luxury car show. It also helps that the tour is always hosted at beautiful locations. The Buick Discovery Tour is currently visiting several U.S. cities with the following at: SLS Hotel in Beverly Hills, California with Chef Michael Psilakis on January 21 & 22, 2012; Stratta at Montelucia Resort & Spa in Phoenix, Arizona with Chef Ming Tsai on January 28 & 29, 2012; and Westin Beach Resort Spa in Fort Lauderdale in Miami, Florida with Chef Michael Psilakis on February 18 & 19, 2012. For every guest that attends this event, Buick donates proceeds to the
Feed Foundation
.
Ben Roche is a pastry chef at
Moto restaurant
in Chicago, IL and co-host of the series 'Future Food' on Discovery's Planet Green network. Chef Roche was also known as the most innovative pastry with a bit of a mad scientist. He prepared for us "walnut and blue cheese" ice cream and chocolate malt balls. Walnuts and blue cheese sounded like very strange flavors for ice cream, but this flavor combination really went well together and the ice cream was very flavorful. During his demonstration, he used liquid nitogen to prepare the ice cream for us which was very entertaining and a joy to watch.
Many attendees had a chance to view several Buick models as well as test drive the Buick vehicles. Some of the models that were on display were the Enclave, Regal, Lacross, and Encore. I didn't do the test drive as I was actually interested in photographing and learning more about the vehicles on displays, although I didn't get to view all the models that were there on display. All the vehicles were really beautiful and it was great learning about them.
Chef Josiah Citrin
is the executive chef and owner at Mélisse Restaurant in Santa Monica, CA where he specializes in French Cuisine. At the event, he prepared for us "hokkaido sallop with lime, basil and prawn salt over cauliflower mousse". It was a beautiful display and very flavorful. I particularly enjoyed the cauliflower mouse.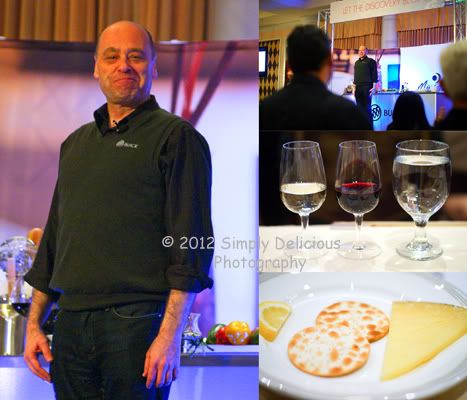 Michael Green
is a wine aficionado and is always informative, and entertaining when he attends these events. At this event, he explained the history of the two wine that were in front of us.
Please excuse me for being ignorant while I'm not a wine drinker. The lemon slice, crackers and cheese were paired up with the white wine and red wine for a great taste.
Best of all, Celebrity
Chef Ming Tsai
gave a great cooking demonstration at the end of the event. I have seen Chef Ming on "The Next Iron Chef" as well as making a guest appearance on "Top Chef", but he was very entertaining and more delightful to watch in person! He prepared "chicken and tri-bell pepper chow mein" for us at this event.
At the end of his presentation, many attendees got to take a photo with Celebrity Chef Ming Tsai as well as get an autograph copy of his book, "Simply Ming: One Pot Meals". In case you missed this event in your city or your city never got a visit from the Buick Discovery Tour and you are a fan of Chef Ming Tsai, he is also a chef for the
Macy's Culinary Council
where he may still have a chance to visit your area for a cooking demonstration.